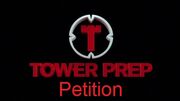 The Tower Prep Petition is trying to bring back tower. We are trying to get more that 250 letters to send to Cartoon Network. The idea is to send all the letters in at once so that when they get it they won't say no. If the petition works we will get the show back. They said there will be more details in the future.
Ad blocker interference detected!
Wikia is a free-to-use site that makes money from advertising. We have a modified experience for viewers using ad blockers

Wikia is not accessible if you've made further modifications. Remove the custom ad blocker rule(s) and the page will load as expected.